Tobacco use remains the leading cause of preventable death and disease in Canada. The Canadian Dental Association strongly advises against the use of tobacco products because of the unacceptable risks posed to general and oral health. You can improve your quality of life and overall health by making the decision to stop smoking.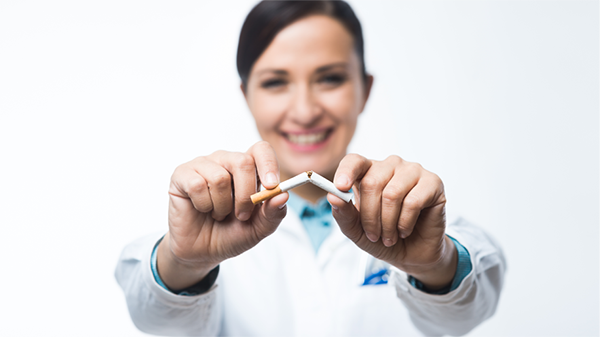 Tobacco Products
Smoking tobacco can affect the appearance and health of your mouth and gums. Also known as "snuff", "spit" or chewing tobacco,
smokeless tobacco is held in the mouth between the teeth and cheek.
By giving up tobacco, you can dramatically reduce your chance of developing the following conditions:
Oral and pharyngeal (throat) cancers
Cancers of the lungs and/or other parts of the body
Heart disease
Stroke
Chronic bronchitis, emphysema
Periodontitis (gum disease) and tooth decay
Premature aging
Mouth sores or lesions that do not heal (leukoplakia)
Please talk to your dentist about how tobacco is affecting your oral and overall health and make a plan to quit today!
Quit Supports
Making the decision to quit smoking does not have to be difficult. There are many supports available to help smokers and their supporters.
Break It Off (for young adults)
https://breakitoff.ca
Canadian Cancer Society
https://www.smokershelpline.ca/
https://www.smokershelpline.ca/healthcare/quit-connection

Go Smoke Free
www.gosmokefree.gc.ca
1-866-366-3367 toll-free
Tips for living tobacco free
Talk to your dentist and your doctor about developing a strategy to quit.
Have your dentist screen you for early signs of oral cancer and periodontal disease.
Anticipate personal smoking triggers and prepare strategies to avoid them. Get help if you need it.
Reward yourself for reaching small goals. For example, go out for dinner or buy yourself a small gift.
Chew sugarless gum and drink water when cravings hit.
Incorporate exercise into your weekly routine and eat more fruits and vegetables.