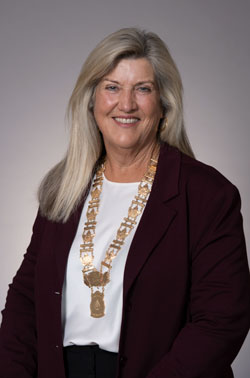 Dr. Heather Carr, President
The Canadian Dental Association (CDA) is pleased to announce the appointment of Dr. Heather Carr as CDA president for 2023-2024. A practising general dentist, Dr. Carr is a partner at Atlantic Dental Centre in Halifax, Nova Scotia.
In 1984, Dr. Carr graduated with a B.Sc. Honours and the University Medal from Kings College, Dalhousie University. Then in 1988, she received her D.D.S. with the University Medal and Gold D from Dalhousie Dental School.
Dr. Carr is a past president of the Nova Scotia Dental Association (NSDA) and Halifax County Dental Society. She joined the CDA Board as the NSDA Representative in October 2015, and has an extensive history in organized dentistry beginning with service as the Dalhousie Dental Students Society president in 1987-88 and editor of the Dalhousie Dental School Journal in 1986-87. Dr. Carr has been involved in and chaired committees at both the NSDA- and CDA-level since her graduation. She and some of her classmates will become Life Members of the NSDA this year in recognition of 35 years of practise.
Her awards include the NSDA Volunteer of the Year in 2005, the NSDA Award of Excellence in 2015 and the NSDA Dr. P.S. Christie Distinguished Service Award in 2021, which is given in recognition of outstanding service to the profession of dentistry for 15 years or more. Dr. Carr has been awarded fellowships in the International College of Dentists, Pierre Fauchard Academy and American College of Dentists. She is a member of the Canadian Academy of Restorative Dentistry and Prosthodontics and the East Coast Endodontic Study Club.
Dr. Carr is a lifelong resident of Fall River, Nova Scotia. She is the proud mother of Dr. Chelsea Carr Kinnear, a chiropractor in Fall River, and Dr. Evan Carr Kinnear, a 2021 U of T Dental School graduate who practises in Kentville, Nova Scotia. She and her partner, John Ormsby, enjoy travelling, golfing, spending time on the lake in the summer and winter weekends at her ski cottage in Wentworth, Nova Scotia.
A life-long contributor to her community, Dr. Carr has been involved with Girl Guides of Canada and served as chair of the Holland Road Elementary Fine Arts Show as well as a board member of the Cheema Canoe Club.
Dr. Carr will lead CDA in its mandate as the national voice for dentistry, dedicated to the advancement and leadership of a unified profession and to the promotion of optimal oral health as an essential component of general health.