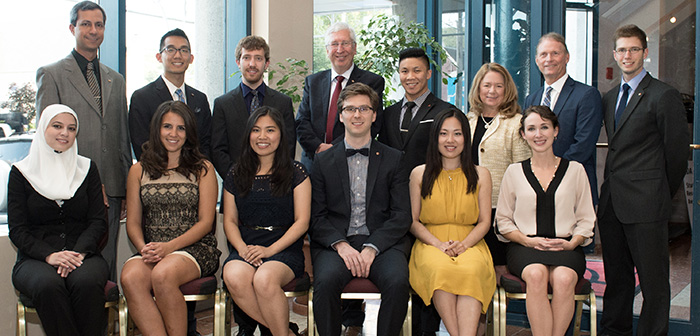 Dental students from Canada's 10 dental schools gathered in St. John's, Newfoundland, in September to take part in the annual CDA/DENTSPLY Student Clinician Research Program. The national competition is an opportunity for each Canadian dental school to showcase the high calibre of their student research by selecting one student project to represent their school in the program.
Student clinicians enter a table clinic in 1 of 2 categories: (1) clinical application and techniques, or (2) basic science and research, and are evaluated by a panel of judges based on presentation, table display and research topic.
Dania Alkhani from the University of Saskatchewan won first prize for work that aimed to develop a more effective, less invasive way to treat squamous cell carcinoma (SCC), compared to current treatment options. Her research identified a compound that was toxic to malignant cells by testing 4 synthetic compounds against 3 human oral SCC cell lines and 3 types of non-cancerous oral cells.
Ms. Alkhani won an all-expense paid trip to the 2015 American Dental Association (ADA) Annual Session in Washington, DC, in November where she will represent Canada alongside other international winners of the student clinician program.
"It was an honour to be selected by my school to represent my class," says Ms. Alkhani. "And then to go to this national conference was an even bigger honour. It was a really rewarding experience and really exciting."
"It was great to meet all the other students and clinicians and see their research," she adds. "You feel when you're in dental school that you're in your own, isolated world and then you meet other students who are living the same lifestyle and we all just connected."
Second prize was awarded to Jessie (Xin) Zhang from McGill University, along with her fellow McGill collaborator, Michelle Chan. Their research examined the effects of serotonin reuptake inhibitors (SSRIs), commonly prescribed for depression and anxiety disorders, on bone healing and implant osseointegration. Her research found that use of SSRIs is a risk factor for implant failure and may impair osseointegration. As runner up, Ms. Zhang received a cash prize of $1000.
"I feel very lucky to have been a part of the program," says Ms. Zhang. "I got to meet so many great dentists and everyone from different schools across Canada."
The DENTSPLY student clinician research program has been running since 1971 in Canada and operates internationally in 36 countries. The program's aim is to "stimulate ideas, to improve communication and most of all, to increase student involvement in the advancement of the dental profession."