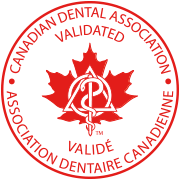 Helping consumers make informed choices
A trip to the store to purchase dental products can be daunting-which ones to choose? Beyond the enticing packaging and marketing claims, will the products really do what they say?
The CDA Seal helps consumers know which oral health benefit claims made by a manufacturer have been independently reviewed and are supported by scientific evidence.
What is the CDA Seal?
The CDA Seal Program independently validates specific oral health benefit claims made by the manufacturer of a product. The CDA Seal, and its accompanying statement, are found on products that have successfully completed the CDA review process.
For the Canadian consumer, the CDA Seal provides reassurance that the product can improve their oral health in the ways specifically claimed by the manufacturer.
For the manufacturer, the CDA Seal differentiates its products in the marketplace by highlighting their validated oral health benefits.
The CDA Seal plays an important role in the daily interactions dentists and their teams have with patients. The CDA Seal helps dental professionals make informed product recommendations so that patients are sure to meet their individual oral health needs and goals. Download office posters.
When in doubt, look for the CDA Seal. If a product bears the CDA Seal, you can be sure it will deliver the oral health benefits claimed by the manufacturer and validated by CDA.
How do products get the CDA Seal?
To obtain the CDA Seal for a product, manufacturers are required to state the oral health benefit(s) that they wish to have validated by CDA, and submit evidence to support their claim. Product claims, supporting evidence and additional materials are then reviewed by CDA's independent experts to confirm the validity of the specific oral health benefit claim(s). Not all claims submitted for the CDA Seal meet CDA's rigorous requirements.
What is the submission process?
Participation in the CDA Seal program is voluntary. Interested manufacturers may request the Guide to the CDA Seal Program.
If, after studying the guide, the manufacturer wishes to apply for the CDA Seal for a product, a completed application is submitted to the CDA. A separate application must be submitted for each product.
CDA Seal experts review the application documents and supporting research provided by the manufacturer. These experts may conduct an additional investigation of the product claim, as deemed appropriate.
If the claims are found to be valid, the CDA Seal is awarded to the product. The CDA Seal statement will clearly specify the oral health benefit claim(s) validated by CDA.