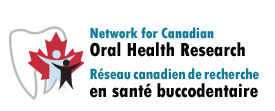 We are pleased to announce that the Network for Canadian Oral Health Research (NCOHR) was recently awarded five-year funding for the continued support of oral health researchers in Canada. The Network is committed to making a difference in the oral health of all Canadians. The mission of NCOHR is to:
ensure that the Network and Canada are internationally recognized as the leader in oral health research,
deliver exceptional training in oral health research, public health and care in the full spectrum of oral health care,
bridge the translation gap between academic research and industry, and
translate research advances into tangible benefits for Canada.
In the upcoming weeks and months, NCOHR members, stakeholders and partners will be informed about the planned research funding opportunities and about the Network activities designed to support the oral health research community in Canada.