Cover Artist: Dr. Ivan Gasoi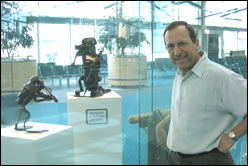 Dr. Ivan Gasoi of Vancouver, B.C., initially started to work with ferrous metal in 1996. It was through the encouragement of his wife to find a hobby that he decided to pursue his interest in oxyacetylene welding. His fascination with the process of welding scrap metal quickly expressed itself as figurative art.

Inspiration for the work gracing this month's cover was the result of Dr. Gasoi's involvement with the Borealis String Quartet, a young and exceptionally talented group of musicians that is rapidly establishing a national reputation.

His passion for musical themes is also evident in Swamp Duet, a work that is currently on display at the Vancouver International Airport. The frog violinist and the alligator cellist have been prominently showcased for the past year. Dr. Gasoi has been invited to exhibit his work at a local Vancouver gallery in 2005.

A 1969 graduate of McGill University, Dr. Gasoi has maintained a general practice in Vancouver since 1971.