Profile
JCDA is the flagship publication of the Canadian Dental Association. Published in both English and French, JCDA has been the authoritative voice of the dental profession in Canada since 1935. JCDA is received by every dentist and dental student in Canada 10 times per year in the official language of their choice.
JCDA is Canada's only national peer-reviewed dental publication, focused on meeting the knowledge and information needs of Canadian dentists. JCDA meets these needs by providing practical clinical and business information in an attractive, accessible format.
The Facts
The Flagship Publication of the Canadian Dental Association
Published 10x per year (monthly, except December/January and July/August issues combined)
Circulation: Every dentist and dental student in Canada (21,198 total, CCAB Audited)
JCDA/JADC offers 2 separate publications for the same price (English & French), in the preferred language of choice for dentists
"Essential Reading" for Canadian dentists
Why Advertise?
Highest Circulation coverage of the dental market (21,198 dentists and dental students)1
JCDA delivers the highest average issue reach2
JCDA has the highest readership, and also offers a 23% lower CPM1,2
A 4-issue advertising schedule in JCDA/JADC delivers more reach than Oral Health…at 17% lower cost!!1,3 (based on a full page 4C 1X rate)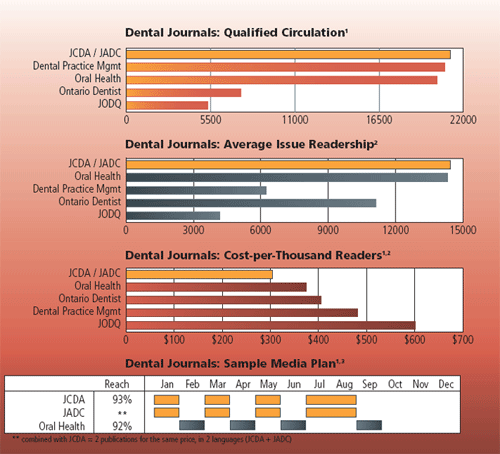 Sources: 1 Canadian Advertising Rates & Data 2008, 2 Canadian Dental Media Study 2008, 3 CDMS 2008 total of dentists who read any of the last 4 issues.
For more information contact:
Peter Greenhough
Keith Communications
Tel.: 905-278-6700 ext. 18 or 1-800-661-5004 ext.18
Email: pgreenhough@keithhealthcare.com
Canadian Dental Media Study 2008
Based on 2008 sample of 504
JCDA / JADC has the tools to grow readers
Great reader response to journal improvements

Crisp, modern cover design
Dynamic clinical visuals
Compelling feature articles
Authoritative clinical departments
Peer review, Canadian perspective

Superior, audited circulation
Dedicated French-language issue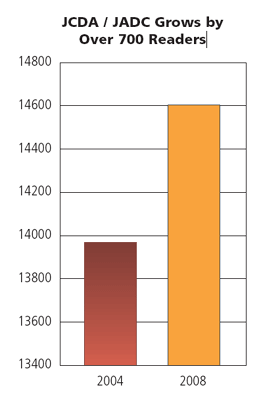 JCDA / JADC - A better read

Time spent reading up +2.8 minutes to 33.8 since 2004
High qualitative scores,* up from '06:

#1 for Credible Source 4.3
#1 Essential Reading 4.0
#1 Authoritative for Treatments/Procedures 4.1
* based on national publications. Scores out of 5.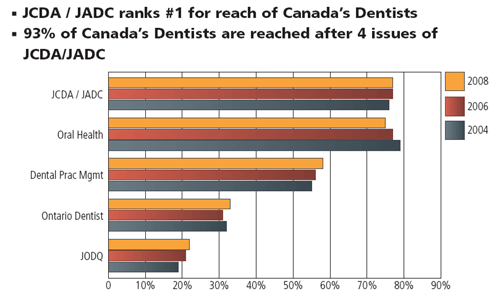 The Canadian Dental Media Study was first conducted in 2004. A second wave in 2006 and a third in September 2008 serve to provide a robust sample of almost 1500 in total. Study conducted independently by Reader Pulse Surveys™, G. Bramm & Associates, Oakville, ON. Final data as of September 26, 2008.