Cover Artist: Dr. Fangfang Ma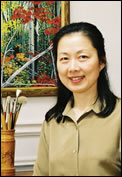 Dr. Fangfang Ma of London, Ont., is a self-taught amateur artist. Her acrylic painting, titled Fly Fishing, reflects her love of the Ontario landscape. "This painting was created from one of my photographs taken a couple of years ago. The fisherman was standing in the water, casting the fishing line into the stream where many fish were schooling. The sun was shining. The blue sky was reflected in the water, as were the rocks and the trees. Oh, it was just so beautiful!"

Dr. Ma started painting 5 years ago. Most of her works feature landscapes photographed by her husband on their travels. She prefers acrylic on canvas, but also enjoys watercolours. Dr. Ma graduated with honours from the Qualifying Program at the University of Toronto's faculty of dentistry. She is now working as a part-time associate in London and teaches at the University of Western Ontario.