Cover Artist: Dr. Steve Goren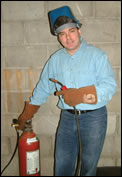 This month's cover shows works of abstract art by Dr. Steve Goren of Toronto — 3 maquettes (each one about 2 feet high), used as design instruments for larger installation pieces, combining welded steel armature, hand-moulded layered cement fondue and a chemical patina.

"I started sculpting pseudo-professionally about 20 years ago, mostly because I have always been inspired by the work of the modern abstract sculptors, especially the cubist Jacques Lipschitz," Dr. Goren told JCDA. "Sometimes, the way we see things in this world can only be visualized by imagining that the image has a 'negative space.' An example would be to imagine an abstract figure without a head. You may see what appears to be all the body parts and recognize it as a complete figure, because you imagine a head to be there, but the fact that it is not there does not diminish its completeness.

This use of what I term 'negative space' is the essence of my work. Our minds are trained to see patterns of symmetry and familiarity. The more soothing, familiar and esthetic the visual pleasure, the more our mind regards the beauty of the image. The female form is the most esthetic image known to man. You can pattern the image any way you want, as I have in the 3 maquettes, but if you respect the basic esthetics, your mind knows what it is and what you don't see complements the design in its simplicity."

A 1979 graduate of the University of Manitoba, Dr. Goren becomes president of the Ontario Dental Association in May.