Cover Artist: Dr. Evelyn McNee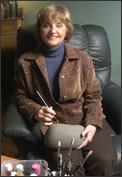 Dr. Evelyn McNee of Vancouver would never have classed herself as an artist, but after attending a workshop on how to paint rocks, she now keeps her eyes peeled for smooth rocks along the shoreline that are just the right shape for creating her art.

This month's cover features her rock panda and rock raccoon. "It is fascinating to experience the transformation of a rock into an animal," Dr. McNee enthuses. "The design is chalked on and then acrylic paints are used to paint the rock. The fine fur on the animals is painstakingly done, using a script cursive brush. The eyes are enhanced with a thick, high-gloss Crystal Cote to make them 3-dimensional, so the animals really do come alive."

Dr. McNee is a former registrar of the College of Dental Surgeons of B.C. and the past chair of the Commission on Dental Accreditation of Canada. She is currently a partner in HealthTeam Associates.