Cover Artist: Dr. Ratna Kali-Roy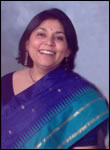 This month's cover artist is Dr. Ratna Kali-Roy of Grande Prairie, Alberta. Her oil painting, titled Dancing Lights, reflects her fascination with the aurora borealis, or northern lights. "The first time I saw them was in Hay River, in the Northwest Territories, and they have become one of my favourite subjects," Dr. Kali-Roy told JCDA. A self-described amateur painter, she started painting 3 years ago and also enjoys using acrylics and watercolours.

When not looking after teeth, Dr. Kali-Roy is perfecting her skills as a photographer. She graduated from the University of Calcutta in 1982, taught at a dental school in Manipal (South India) and then obtained her Fellowship in Dental Surgery from the Royal College of Surgeons in London. After living in England for several years, Dr. Kali-Roy moved to Canada in 1997, spending some time in the N.W.T., where Dancing Lights was completed.