Cover Artist: Dr. Gene Cervini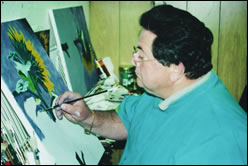 This month's cover artist is Dr. Gene Cervini of Bolton, Ontario. Dr. Cervini's interest in painting began after he graduated from the University of Toronto in 1975, but he didn't actively pursue his hobby until May 2002.

He has been taking lessons from a local artist and has since completed approximately 25 paintings. His painting medium is oil and his subjects of choice are nature and still lifes.

"Self-expression has always been one of my attributes, so when I met my art teacher it was an instant match — an expert teacher and a willing and receptive student," explains Dr. Cervini. "We have had 2 successful art shows together and look forward to many more."

Dr. Cervini was born in Italy and moved to Canada in 1955, when he was 9 years old. He maintains a private practice in Toronto, where he has been very active in organized dentistry. He is a former president of the North York Dental Society, the Ontario Academy of General Dentistry and the Toronto Academy of Dentistry.