Cover Artist: Dr. William H. Liebenberg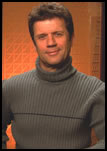 The cover art for the July-August JCDA — titled Surrealist Balance — is the work of Dr. William H. Liebenberg of West Vancouver.

"This acrylic painting, when viewed as displayed, captures a timeless moment of my daughter's handstand on the beach," Dr. Liebenberg notes. Viewers are encouraged to experience his creative intention by flipping the image vertically to experience the secondary objective, which is more surrealistic.

When flipped, the painting takes on an incongruous image of Dr. Liebenberg's daughter reaching upwards through a corporeal representation of the heavens.

Dr. Liebenberg received his Bachelor of Dental Science in 1982 from the University of Witwatersrand in South Africa. He emigrated to Canada in 1993 and practises general dentistry on Vancouver's North Shore.