Cover Artist: Dr. Jack Dale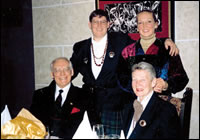 Dr. Jack Dale's cover art for the June edition is a pen, airbrush and ink diagram, illustrating orbital rotation toward the midline (biorbital convergence) and decreasing relative dimensions of the interorbital region in the human. This, together with other rotations, brain enlargement, facial reduction and realignment adaptations, contribute to the anatomical basis for the various malocclusions that can occur in the human face.

Dr. Dale has been involved as an artist and writer in over 75 publications, including 18 books. He is constantly creating illustrations for lectures that he has presented throughout the world over the past 45 years.

The cover illustration originally appeared in A.R. Ten Cate, editor. Oral histology, development, structure and function. 5th edition. Mosby; 1998. p. 429, Figure 19-7.

Dr. Dale enjoys writing and drawing at his home in Toronto, because it provides more opportunity to spend time with his family (shown in photo): Anne Sr., his wife of 51 years, classmate in dentistry and associate professor at the faculty of dentistry of the University of Toronto, and daughters Hali (right), orthodontist, practising with her father, and Anne, mathematics and physics teacher at Weston Collegiate in Toronto and next-door neighbour.