Cover Artist: Dr. Steve Baylin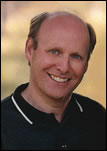 Dr. Steve Baylin has been in private practice in Calgary since 1978. Originally from Montreal, he graduated from McGill University's faculty of dentistry in 1976, moving to Boston where he acquired his postgraduate Diploma in Pediatric Dentistry. In 1978, Dr. Baylin earned a MScD from Boston University's School of Graduate Dentistry.

Dr. Baylin is currently the editor of the Canadian Academy of Pediatric Dentistry's national newsletter and designer/administrator for that organization's Web site, to be launched in July. He is a guest lecturer in pediatric dentistry for the Dental Assisting Program at the Southern Alberta Institute of Technology (SAIT) in Calgary. Dr. Baylin is also the pediatric dental representative on the Canadian Downs Syndrome Society Professional Resource Council.

Landscape photography has always been a passion for Dr. Baylin. This issue's cover illustration shows a young girl gazing toward the commanding mountain peaks, expressing a sense of wonderment and appreciation for the natural beauty and splendour of the landscape. Dr. Baylin snapped the picture at Elbow Lake in Alberta's Kananaskis Country in summer 2001.