Cover Artist: Dr. Vernon Shaffner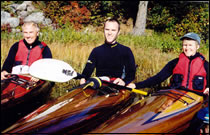 The cover art for the February JCDA is a photo of a group of kayaks built by Dr. Vernon Shaffner of Halifax.

"I started building kayaks in 1998," he relates. "I have built 6 kayaks so far and each kayak takes about 400 hours to build! I have given 2 of the kayaks to the Canadian Cancer Society to raffle off in fundraisers." This was done in memory of Dr. George Scott and Isabel Scott of Burlington, Ontario, who were both victims of cancer.

Dr. Shaffner graduated from Dalhousie University's faculty of dentistry in 1969 and earned a degree in prosthodontics from Indiana University's School of Dentistry in 1972. Since then, he has practised in Halifax and taught at Dalhousie.

In the photo above, Dr. Shaffner and his family are seen taking the kayaks out for a paddle on a summer weekend in Nova Scotia cottage country. From left to right in the picture are Dr. Shaffner, his son Matthew, a student at Dalhousie University's faculty of dentistry, and his wife Dianne.

Dr. Shaffner gives courses on how to build kayaks. For more information, e-mail him at vernon@hfx.eastlink.ca.