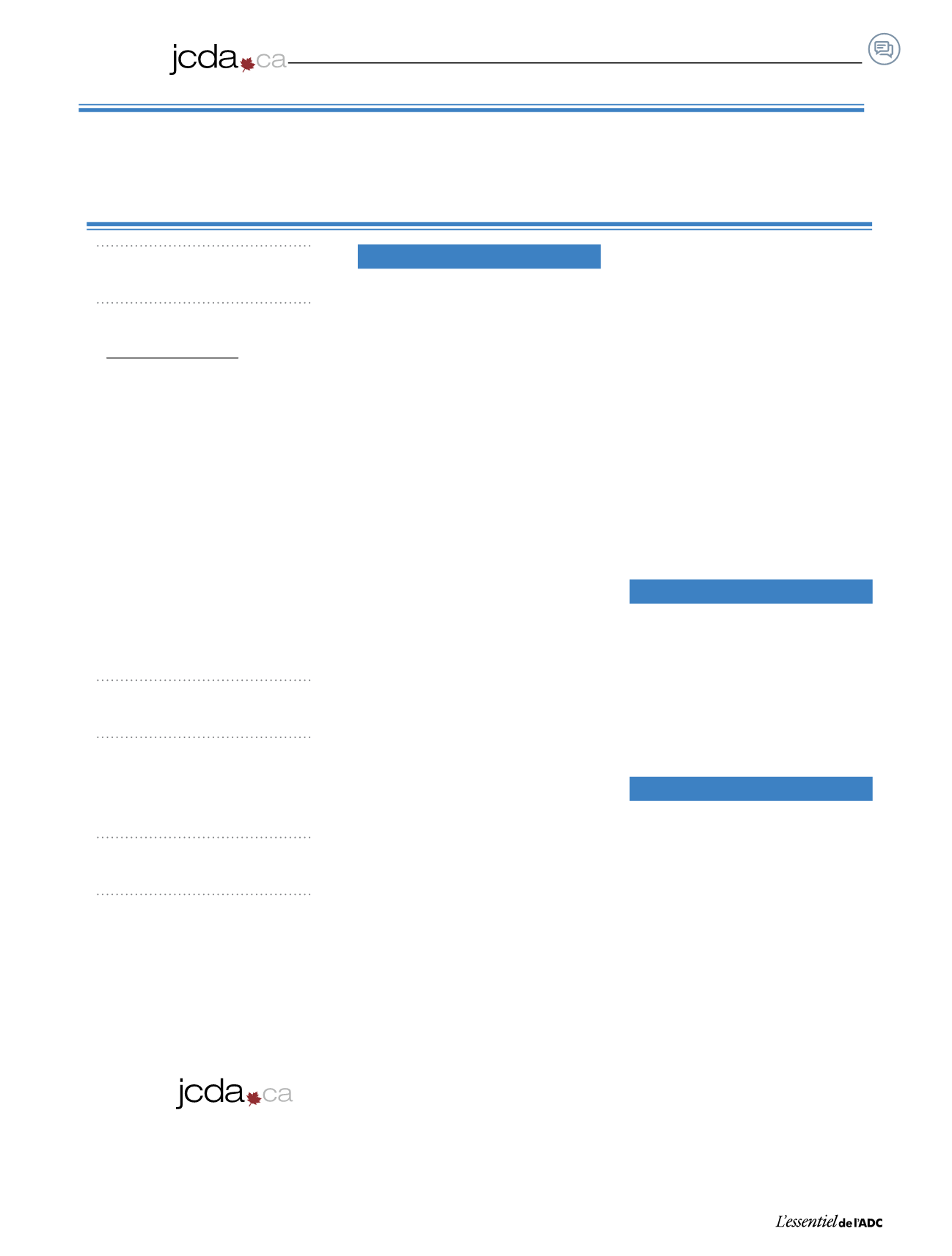 JohnReid
a/sKeithCommunications Inc.
1464, cheminCornwall, unité8, 2
Oakville (Ontario) L6J 7W5
Lesannoncespar téléphonene sontpasacceptées.
Veuillez faireparvenir les réponses auxnuméros
deboîtesà l'adresse suivante :
1464, cheminCornwall, unité8, 2
Oakville (Ontario) L6J7W5
Lesnomset adressesdesannonceursqui utilisent les
boîtes-réponse sont strictement confidentiels.
250$ jusqu'à50mots, 1,50$parmot
Toutes lesannoncesdoiventêtreprépayées.
REMISEDE10%POURLESMEMBRESDEL'ADC
Lespetitesannonces sontpubliéesdans la languede
Joignez leplus important groupededentistesauCanada
1page..................... 2500
2/3page...................1650
1/2page...................1420
1/3page.....................900
1/4page..................... 820
1/8page..................... 420
pour d'autres petites annonces
pour d'autres petites annonces
Cabinets
BRITISH COLUMBIA - Burnaby:
share practice in Burnaby located in commercial
plaza; good exposure, main street, free parking,
easy access toSkytrain. 6ops in facility (2mainly
used by seller), rotating 4 days/weekwithmon-
thly gross $44000+/month, expenses
about 40%, about 1000 patients. If interested,
BRITISH COLUMBIA - Pender Island:
Looking for a lifestyle change? Beautiful Gulf
Islands provides a unique opportunity to live and
work in a great community. General practice of
15 years,well-establishedpatient base, lowove-
rheadanda satelliteofficeonGaliano Island, pro-
vides ampleopportunity for aflexiblework sche-
dulewith theability toexpandandgrowpractice.
Desirable, tranquil location with opportunity for
year-round outdoor adventures. For full details,
please email Dr. Brian K. Nord at: drbknord@
BRITISH COLUMBIA - Victoria:
family practice in new, three operatory office
in high-end income area in Greater Victoria -
Broadmead Shopping Centre. Prime area for ge-
neral dentist or specialist. Ideal for endodontist -
noone in thisareawithwait timeofoneweek for
emergencies. 20 year lease inplace. Phone: (250)
658-8327or (778) 430-1111.
ONTARIO - Greater Toronto Area:
Practice wanted! Altima Dental Canada seeks to
purchase practices within 1 hour of the Greater
Toronto Area. Thinking about selling? Contact us
about our exciting purchase incentives. Formore
informationvisitourwebsiteatwww.altima.caor
ONTARIO - Toronto:
available inmypractice thatmaybe suitable for
you! If yourbuildinghasbeen sold, or you are
looking for a different arrangement, let's talk.
The office is conveniently located at the St. Clair
subway stop. Email: drh@balmoraldentalarts.
ONTARIO - Toronto:
Rare new free-standing building for clinic.
Purchase or lease. Offices move-in ready. High-
end finishes inside and out. Very high demand
area with planned subway stop. Option to have
office space in the basement. Underground
parking. New zoning allows for higher densi-
ty. Handicap accessible. Darryl Condy, Senior
Sales Representative, Right At Home Realty Inc.
Postes recherchés
ALBERTA - SherwoodPark:
General Dentist available for locum, based out of
Sherwood Park, Alberta, twenty-eight years of
experience. Formore informationcall: (587)
Postesvacants
ALBERTA:
Weareabusyand thrivinggroupof
dental practices looking for an energetic, intrin-
sically driven and team-oriented dentist. We are
looking for a true leader who will be a positive
role model for the office. Excellent people and
communication skills are a must. We are loo-
king for someone who is hungry to learn about
all aspects of dentistry.With several experienced
dentists at our offices,mentorship is abigpart of
whatwehavealways offered toour associates.
Key focuses in our practice are comprehensive
dentistry, maintaining a positive and fun work
environment, and creation of a fantastic patient
experience.Weare looking for someonewho can
get onboard with these values and be a part of