The CDA/Dentsply Sirona Student Clinician Research Program provides an opportunity for one dental student from each accredited dental school in Canada to participate in a national clinical research competition.
Managed by the Canadian Dental Association (CDA) and sponsored by Dentsply Sirona International and Dentsply Sirona Canada (Dentsply Sirona), the program is held in conjunction with CDA's annual convention. The purpose of the program is to stimulate ideas, improve communication and most of all, increase student involvement in the advancement of the dental profession.
Method of Selection
Judging of Clinics
Prizes
More Information
2017 Program
2016 Winners
Method of Selection
Each year, CDA and Dentsply Sirona forward an Invitation to the deans of the 10 accredited dental schools in Canada. Each school may select one student to participate in the CDA/Dentsply Sirona Student Clinician Research Program. The selection is determined separately by each dental faculty. Students should contact their faculty for more information on how the selection process is conducted at their school.
The participating student clinician must be an undergraduate at the time of selection by his or her school. Dentsply Sirona provides funding for the qualifying students' airfare and travel expenses to the convention.
Judging of Clinics
Student clinicians provide a presentation (5 to 7 minutes) of their table clinic in one of two categories — 'clinical application and techniques' or 'basic science and research' — to a panel of qualified judges. Students must identify the purpose of the study, provide background information, outline how the study was conducted, and report on the results of the study and its possible significance.
Using established criteria, the judges evaluate the subject matter, presentation and table display of each clinician. The judges then select a first and second prize winner among all competitors on a total point basis, regardless of category.
Prizes
Following the program, CDA and Dentsply Sirona host a reception in honour of all student clinicians participating in the program. The winners are announced during the Awards Reception. Dentsply Sirona provides all awards and prizes. This year, the awards will be presented during the Canadian Pierre Fauchard Academy Annual Awards and Induction Ceremony.
The first prize is an expense-paid trip to the American Dental Association (ADA) Annual Session, where the student clinician will make his or her winning presentation on a non-competitive basis, as part of the ADA's scientific program.
The second prize is $1000 cash. All participants receive a certificate of appreciation from CDA and Dentsply Sirona for their contribution to the table clinic program.
More Information
Faculty members or students seeking further information about the CDA/Dentsply Sirona Student Clinician Research Program are invited to contact:
Monique Bouchard
Coordinator, Dental Academia and Health Informatics
Canadian Dental Association
1815 Alta Vista Drive
Ottawa, ON K1G 3Y6

Tel.: (800) 267-6354, ext. 5001
Fax: (613) 523-7736
Email: reception@cda-adc.ca
2017 Program
In 2017, the CDA/Dentsply Sirona Student Clinician Research Program will be held during the Ontario Dental Association (ODA) Annual Spring Meeting (ASM), held this year in conjunction with the Canadian Dental Association in Toronto, Ontario from May 4-6, 2017. The program features presentations by student clinicians from Canadian dental schools. Introduced in 1971, the CDA and Dentsply Sirona continue to work together to motivate and recognize hundreds of bright young minds to investigate new approaches to a wide range of oral health concerns.
The closed judging session will take place on Thursday, May 4. ASM attendees will have the opportunity to view the posters/table clinics and speak to the student clinicians on Thursday afternoon and all day on Friday May 5, on the Exhibit Floor (Booth 140).
Details on the convention can be found at the following web site: http://asm.oda.ca/asm150/.
Schedule – subject to change
Thursday, May 4
Morning
Closed Judging Session
Afternoon
Open Session
Friday, May 5
Afternoon
Open Session
Lunch
Joint CDA Dentsply Sirona/Pierre Fauchard Academy Awards Luncheon (By invitation)
Afternoon
Open Session
Student Clinicians and Presentation Titles
Note: Student faculty affiliation is withheld until after the judging session.
Austin Andrews, DMD 2018

Title: Advanced Dental Simulation Technology: An aid in developing clinical competency

Jennifer Archibald, DDS 2017

Title: Clinical Evaluation of Hydrophobic and Hydrophilic Sealants in Paediatric Patients

Adam Bishop, DDS 2018

Title: Assessment of in Hospital Monitoring Requirements for Obstructive Sleep Apnea Patients Following Maxillo-Mandibular Advancement Surgery

Mandeep Gill, DDS 2017

Title: Preventive Dental Care in General Pediatric Practice: Pediatric Resident Perceptions

Anne Sophie Grenon-Girard, DMD 2018

Title: Production de lentivirus afin d'exprimer différents transgènes

Tony PY He, DDS 2018

Title: Screening for Regulators of Ras that are Associated with Cell Invasion

Nathan Lee, DMD 2017

Title: Effectiveness of cryotherapy for oral precancers – a pilot study

Jesse A. Marques, DMD 2017

Title: Microbiome Associated with Severe Caries in Canadian First Nations Children

Laurie St-Pierre, DMD 2018

Title: Maximum Protrusion Evaluation in Patients Wearing a Mandibular Advancement Device

Jacqueline Yip, DMD 2017

Title: A Clinical Care Pathway for Maxillofacial Oncology and Reconstruction
2016 Winners
The 2016 CDA / Dentsply Sirona Student Clinician Research Program was held during the Pacific Dental Conference (PDC) in Vancouver, British Columbia.
A prospective evaluation of 1- versus 3-day post-operative antimicrobial therapy in preventing surgical site infection following orthognathic surgery
Thomas Steeves (DDS 3), Dr. Curtis Gregoire (Faculty Advisor), Dr. Clayton Davis (OMFS 6).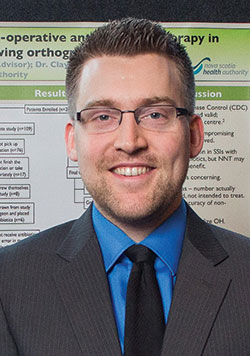 Problem
Orthognathic surgery has a 10-15% risk of surgical site infection (SSI). Pre-operative antibiotic prophylaxis reduces the incidence of SSIs. The recommendations for a post- operative antibiotic prophylactic regimen are conflicting. The purpose of this study is to assess the effect of 3-days versus 1-day of post-operative antibiotic treatment on the prevalence of SSIs following orthognathic surgery.
Methods
A double blind randomized controlled clinical trial with 288 patients was performed. Inclusion criteria: patients 14 years or older undergoing orthognathic surgery at the Queen Elizabeth II Health Sciences Centre. Exclusion criteria: antibiotic use within two weeks before surgery, and/or active oral or systemic infections. All patients received standard pre-operative antibiotic prophylaxis. Patients were randomly assigned to receive an additional 2-day supplement of either (A) cephalexin (clindamycin for penicillin allergic patients) or (B) placebo. A p-value of <0.05 was considered statistically significant for statistics.
Results & Conclusion
The final cohort had 171 patients after removing those who were non-compliant with antibiotics and those with immunocompromising conditions. Group A and B had 86 and 85 patients, respectively. 3-days of antibiotics significantly reduced the prevalence of SSIs compared to 1-day (logistic regression, p=0.04); number needed to treat: 10; odds ratio: 0.34; risk ratio: 0.39. While the extended regimen of antibiotics reduces the risk of SSIs, the benefit may not outweigh the risks of over administering antibiotics and cost ineffectiveness. Compliance may compromise recommendations given to patients.
Comparative analysis of cranio-facial morphology in unilateral clefts : a qualitative report
Vincent Mireault (2nd Prize)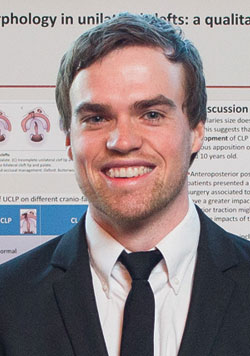 Objectives
This study aims to compare the specific impacts of the different subgroups of unilateral cleft lip and/or palate (UCLP) - cleft lip (CL), cleft lip and palate (CLP) and cleft palate (CP)- on the cranio-facial development. The dimension and position of the maxilla and the mandible along with the facial height will be the main concerns of this analysis.
Methods
14 CLP, 7 cleft lip (CL) and 16 cleft palate (CP) young patients (mean age of 7 years old) were randomly included in this study. Lateral cephalometric radiographs taken before any orthodontic treatment were analysed in all 37 UCLP patients. One blinded examinator digitally traced all landmarks with the Quick Ceph® Studio program on the radiographs. Standard orthodontic measures were analysed qualitatively to assess the antero-posterior and vertical dimension of both maxilla and mandible as well as their antero-posterior position.
Results
Maxillaries dimension doesn't seem to be affected by UCLP at this developmental stage. However, the maxilla position (SNA) and its inclinaison are different (NF-(Sn-7)) in between UCLP subgroups; CP patients have a more retrusive maxilla whereas CL patients present a more important postero-inferior inclinaison of the maxilla. Most malocclusions observed in all three groups were Cl II Angle and of mild to moderate intensity . CLP seem to have a greater impact on teeth orientation.
Conclusions
Impacts of the different UCLP on the cranio-facial morphology seem to differ slightly in between UCLP subgroups. Major abnormalities –malocclusions- usually observed in CLP might arise later in the development of UCLP patients.