The CDA/Dentsply Sirona Student Clinician Research Program provides an opportunity for one dental student from each accredited dental school in Canada to participate in a national clinical research competition.
Managed by the Canadian Dental Association (CDA) and sponsored by Dentsply Sirona International and Dentsply Sirona Canada (Dentsply Sirona), the program is held in conjunction with CDA's annual convention. The purpose of the program is to stimulate ideas, improve communication and most of all, increase student involvement in the advancement of the dental profession.
Method of Selection
Judging of Clinics
Prizes
More Information
2018 Program
2017 Winners
Method of Selection
Each year, CDA and Dentsply Sirona forward an Invitation to the deans of the 10 accredited dental schools in Canada. Each school may select one student to participate in the CDA/Dentsply Sirona Student Clinician Research Program. The selection is determined separately by each dental faculty. Students should contact their faculty for more information on how the selection process is conducted at their school.
The participating student clinician must be an undergraduate at the time of selection by his or her school. Dentsply Sirona provides funding for the qualifying students' airfare and travel expenses to the convention.
Judging of Clinics
Student clinicians provide a presentation (5 to 7 minutes) in one of two categories — 'clinical application and techniques' or 'basic science and research' — to a panel of qualified judges. Students must identify the purpose of the study, provide background information, outline how the study was conducted, and report on the results of the study and its possible significance.
Using established criteria, the judges evaluate the subject matter, oral presentation and visual presentation of each clinician. The judges then select a first and second prize winner among all competitors on a total point basis, regardless of category.
Prizes
Following the program, CDA and Dentsply Sirona host a reception in honour of all student clinicians participating in the program. The winners are announced during the Awards Reception. Dentsply Sirona provides all awards and prizes. This year, the CDA/Dentsply Sirona Awards Ceremony will be held on Thursday evening.
The first prize is an expense-paid trip to the American Association for Dental Research (AADR) Annual Meeting, where the student clinician will make his or her winning presentation on a non-competitive basis, as part of the AADR's scientific program.
The second prize is $1000 cash. All participants receive a certificate of appreciation from CDA and Dentsply Sirona for their contribution to the table clinic program.
More Information
Faculty members or students seeking further information about the CDA/Dentsply Sirona Student Clinician Research Program are invited to contact:
Monique Bouchard
Coordinator, Dental Academia and Health Informatics
Canadian Dental Association
1815 Alta Vista Drive
Ottawa, ON K1G 3Y6

Tel.: (800) 267-6354, ext. 5001
Fax: (613) 523-7736
Email: reception@cda-adc.ca
2018 Program
In 2018, the CDA/Dentsply Sirona Student Clinician Research Program will be held during the Canadian Dental Association (CDA) Convention hosted by the Dental Association of Prince Edward Island (DAPEI), at the PEI Convention Centre in Charlottetown, PEI, From August 22-25, 2018. The program features presentations by student clinicians from Canadian dental schools. Introduced in 1971, the CDA and Dentsply Sirona continue to work together to motivate and recognize hundreds of bright young minds to investigate new approaches to a wide range of oral health concerns.
The closed judging session will take place on the morning of Thursday, August 23. Convention attendees will have the opportunity to view the presentations and speak to the student clinicians during the open session on Thursday afternoon. The session room will be announced as soon as possible.
Details on the convention can be found at the following web site: http://www.cda-dapei.ca/.
Schedule – subject to change
| | | |
| --- | --- | --- |
| Wednesday, August 22 | Various | Arrival |
| | Afternoon | Orientation Session |
| | Evening | Convention Opening Reception |
| Thursday, August 23 | Morning | Closed Judging Session |
| | Afternoon | Open Session |
| | Evening | CDA/Dentsply Sirona Awards Ceremony (By invitation) |
| Friday, August 24 | Morning | Visit exhibit floor or participate in sessions |
| | Lunch | Pierre Fauchard Academy Awards Luncheon (By invitation) |
| | Afternoon | Visit exhibit floor or participate in sessions |
Student Clinicians and Presentation Titles
Student clinician names and presentation titles will be published in April 2018.
Note: Student faculty affiliation is withheld until after the judging session.
Francesca Julia Abdul Nour, DMD 2019

Title: Intéraction entre le Triclosan et l'amoxicilline et la kanamycine

Ling-Yi Chen, DMD 2020

Title: An Interprovincial Comparison of Dental Maturation in Canadian Children

Erin Goertzen, DDS 2018

Title: Evaluating the Informed Consent Process: What do Patients Understand?

Aparna Narvekar, DMD 2018

Title: Restorative materials in Class V lesions: Health Technology Assessment Report

Félix Potvin, DMD 2020

Title: E-Cigarettes Decrease the Interaction of Osteoblasts with Dental Implant Material

Natalie Rosenthal, DMD 2019

Factors affecting the degree of conversion of universal adhesives.

Arleen Schmidt, DDS 2020

Title: Temporomandibular joint defects in Bmp7-deficient mice

Christopher ven der Buhs, DMD 2019

Title: Marginal Adaptation of No-Prep Veneers

Andrei Zaharia, DDS 2019

Title: Novel Bioactive and Injectable, Copolymer-Reinforced Cement for Bone Augmentation

Kellie Zelmer, DDS 2019

Title: Investigating Noise-Induced Hearing Loss in Dental Education and Dentistry
2017 Winners
The 2017 CDA / Dentsply Sirona Student Clinician Research Program was held during the Ontario Dental Association Annual Spring Meeting (ASM) in Toronto, Ontario. Here are the abstracts of the winning presentations.
First Prize
Effectiveness of cryotherapy for oral precancers – a pilot study
Nathan Lee (UBC 2017), Dr. R.M. Shah (Faculty Advisor), Dr. S. Ng, Dr. C.F. Poh.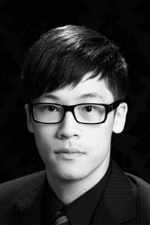 Objective
Early treatment of oral precancers may prevent lesions from becoming cancerous, and thus is the key in oral cancer control. Few study groups have used topical treatment for oral precancers; however, most have small sample size or limited clinical follow-up. Therefore, the effectiveness has yet to be determined. This pilot study aims to use a topical agent for the treatment of pathology-proven low-grade lesions (LGL) and to assess the clinical outcome.
Methodology
From April 2014, we recruited 20 (9 males, 11 females) eligible patients with clinically and pathologically LGLs. Under local anesthesia, liquid nitrogen was applied 3 times for 10seconds each, for each 10mm lesion area. The average interval between treatments was 4-6 weeks. Patients are on 6-month follow-up after clinically complete resolution (CR) was reached.
Results
All lesions were white coloured and 4 had less than 20% redness. Most were on the tongue (10), followed by gingiva (6), palate (2), lip (1), and buccal mucosa (1). LGLs had an average size of 18.6±13mm (min-max, 8-60mm). Ten had no dysplasia, 2 had mild, and 8 had moderate dysplasia. The mean number of treatments was 2.6±1.6 (min-max, 1-7); follow-up time was 11.5 (min-max, 0.9-24) months. Lesions <20mm (n=14) were treated 1-2 times with 6 reaching CR, 6 partially resolving (PR), and 2 recurring to original size. Lesions ≥20mm were treated more than 3 times with 4 CRs and 2 PRs, with sizes reduced by 80%. All patients recovered well with mild pain that resolved within 3 weeks post-treatment.
Conclusion
Cryotherapy provides an easy alternative to control LGLs. Further study with larger sample sizes and longer follow-up is necessary to monitor its long-term effectiveness. Investigation of molecular risk of these pathologically and clinically similar lesions may be warranted to predict the effectiveness of cryotherapy.
Second Prize
Clinical evaluation of hydrophobic and hydrophilic sealants in paediatric patients
Jennifer Archibald (Western 2017); Dr.Timucin Ari, Dr. Gord Payne, Dr. Clive Friedman, Dr. Jeff Richmond, Dr. Olaf Plotzke (faculty collaborators); Dr. Sahza Hatibovic-Kofman (faculty-advisor).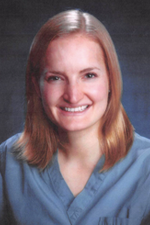 Problem
Commonly used pit and fissure sealant materials are hydrophobic and require the additional steps of using a drying agent and air-drying the tooth prior to sealant placement. A hydrophilic sealant material was recently developed to eliminate these steps and to reduce procedure time by 10-­‐30 seconds. This study compares the retention and caries prevention rates of both the hydrophobic and hydrophilic sealant materials in paediatric patients over a five-year time period.
Methods
Patients, between the ages of 3-16 years, were observed at either the university's paediatric clinic or one of three specialist's offices starting in 2013. Using a split-­‐mouth design, primary and permanent molars were sealed bilaterally along an arch, with one side sealed with the hydrophobic material and the other side with the hydrophilic sealant. Each sealant was evaluated at regular 6-­‐month recalls using the following criteria: completely retained, partial loss, or total loss with caries.
Results
After three years into the study, 2388 sealants in 578 children were evaluated. Overall success rates of the hydrophobic material was 91.7% and 6.7% for completely retained and partially lost sealants respectively, compared to 92.4% and 5.9% for the hydrophilic material. There were no statistically significant differences in the retention rates and incidence of caries between materials (p>0.05).
The new hydrophilic sealant is as clinically effective as the previously used hydrophobic sealant. This research may lead to more sealants being placed due to reduced operator time and increased patient tolerance with the new material.