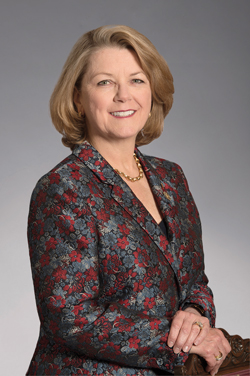 Dr. Lynn Tomkins, President
The Canadian Dental Association (CDA) is pleased to announce the appointment of Dr. Janet Lynn Tomkins as CDA president for 2022-2023.
Dr. Tomkins practised general dentistry for nearly 40 years, primarily in her own practice in Toronto. She has been involved in organized dentistry since she was a dental student, starting in 1979.
In 2010, she served as the president of the Ontario Dental Association and was honoured as one of Canada's top 100 most powerful female leaders in the private, public and not-for-profit sectors by the Women's Executive Network.
In 1980, Dr. Tomkins was the first ever woman to serve on the Board of Governors of CDA as the representative of CDA's Council on Student Affairs. In 2015, she was appointed to the CDA Board of Directors and served on several committees and working groups to advance the dental profession and the oral health of Canadians.
Dr. Tomkins earned both her Bachelor of Science (Honours) and Doctor of Dental Surgery (Honours) from the University of Toronto (U of T). She is a clinical instructor in the Department of Oral Diagnosis and Oral Medicine at U of T's Faculty of Dentistry, where, in 2006, she received the Dr. A. Bruce Hord Master Teaching Award for excellence in clinical teaching.
Dr. Tomkins lives in Toronto with her husband Dr. Daniel Kmiecik, DDS, and is "Auntie Lynn" to 29 nieces and nephews. She is an avid traveler and enjoys skiing, hiking, canoeing, scuba diving and exploring Canada's national parks. Dr. Tomkins is also an associate member of the Senate of the Queen's Own Rifles of Canada, Canada's oldest continuously serving infantry regiment.
As the second trailblazing female CDA president in the association's 120-year history, Dr. Tomkins will lead the organization in its mandate as the national voice for dentistry, dedicated to the advancement and leadership of a unified profession and to the promotion of optimal oral health as an essential component of general health.