Cover: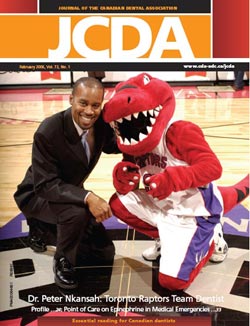 The path that leads from being a talented university basketball player to becoming the official dentist for a professional basketball organization may not be conventional, but it is the road travelled by the CDA member featured on this month's JCDA cover.
Dr. Peter Nkansah of Toronto, Ontario, has been a member of the National Basketball Association's Toronto Raptors medical team for over 10 years. The University of Toronto graduate and former co-captain of the Varsity Blues basketball team offers his professional services to the Raptors on a voluntary basis.
Dr. Nkansah makes sure to attend every Raptors home game, making himself available before, during and after the contest. "On game days, the medical staff is responsible for the Raptors, the visiting team and their staff, and the referees," explains Dr. Nkansah. "I would say that I am called upon in about one-third of games."
Players' elbows and forearms can go astray during games, which presses Dr. Nkansah into action. "The time pressures in the NBA are intense, which means that instant turnaround is not only preferred but expected," he says. "In a business where 15 players make up the face of a high profile, multi-million dollar company, one player's absence can affect the whole team's performance."
Recalling some of his more memorable interventions, Dr. Nkansah has helped repair lacerations in the mouth for such marquee players as Allen Iverson and Chris Bosh. Re-cementing an anterior temporary postcore crown for an opposing team's head coach before one game brought a smile to both the patient and dentist.
Dr. Nkansah's primary duties as the Raptors' dentist include attending the pre-season medical examinations to assess the oral health status of the players and coaching staff. He also coordinates ongoing or urgent dental care for the players, coaches and families throughout the season.
Dr. Nkansah enjoys the camaraderie of working with a team of health professionals in one of the 5 major North American sports. He offers his assistance to the entire Raptors medical team, which means he is sometimes called upon to act outside the parameters of dentistry. "Since I have postgraduate anesthesia as well as advanced cardiac life support (ACLS) training, I can be useful for more than just teeth," he adds.
His role within the organization also gives Dr. Nkansah the opportunity to offer informal counselling to some of the young, instant millionaires who make up the ranks of the NBA teams. "Coming into large sums of money at such an early age could pose coping problems for anyone," he says. "Learning how to take care of your body and mind throughout the long season and road trips without your friends and family for support is difficult, and I try to lend an ear or offer words of non-basketball advice."
Within the dental community, Dr. Nkansah is a member of the teaching staff at the University of Toronto's faculty of dentistry and at the Regency Dental Hygiene Academy. He is the current president of the Canadian Academy of Dental Anaesthesia. As someone who sees many anxious and medically compromised patients at his private practice, Dr. Nkansah supports and defends the continuation of dentist-provided sedation/anesthesia in the profession. "I don't want to see this service taken away from patients, which is why I believe it should be granted specialty status," he emphasizes.
Outside of his practice and Raptors obligations, Dr. Nkansah enjoys spending time with his wife and young daughter. Organized camping is one activity that provides particular joy and satisfaction. "Camp Jumoke and Summer Dreams are 2 charitable organizations that I'm involved with at arm's-length," he explains. "Camp Jumoke provides a 2-week camp for children with sickle cell disease, while Summer Dreams provides financial assistance to allow underprivileged kids to attend camp."
Cover photo courtesy of Ron Turenne, NBA Images.