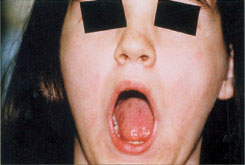 Figure 1:
Luxation of the temporomandibular joint in a 12-year-old patient.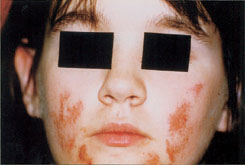 Figure 2:
Bilateral bleeding in the cheeks following episodes of luxation.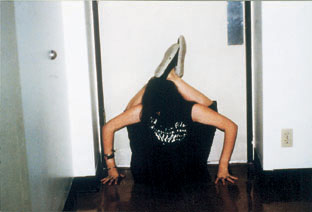 Figure 3:
Unusual body posture demonstrating joint hypermobility.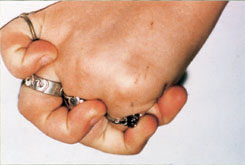 Figure 4:
Hyperextension and hyperabduction of the fingers.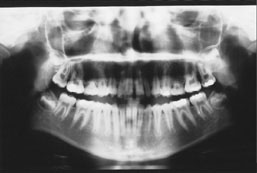 Figure 5: A panoramic radiograph demonstrating the absence of 2 maxillary premolars.
Table 1 Classification of Ehlers-Danlos syndrome
Type

Transmission

Clinical Features

Biochemical Defects

% of Cases

I – Severe or classic

ADa

Skin hyperelasticity and fragility

Dystrophic scars

Joint hypermobility

Abnormal bleeding tendency

Unknown

80%

II – Moderate

AD

Symptoms less pronounced than in type I

Unknown

III – Familial hypermobility

AD

Joint hypermobility

Multiple dislocations

Skin hyperelasticity

Absence of dystrophic scars

Normal coagulation

Unknown

10%

IV – Vascular (Sack-Barabas)

A, B, C, D

AD (A, B, C) ARb (D)

Vascular fragility (arterial rupture)

Moderate hypermobility of the finger joints

Perforation of certain hollow organs

(uterus, intestine)

Deficit of collagen type III

4%

V – Chromosome X linked

XLc

Similar to types II and III

Unknown

» 6%d

VI – Ocular A, B

AR (A, B)

Hyperelasticity of the skin

Joint hypermobility

Detached retina

Severe scoliosis

Lysyl hydroxylase deficiency

VII – Arthrochalasis

multiplex congenita

A, B, C

AD (A, B)

AR (C)

Congenital luxation of the hips

Multiple joint dislocations

Moderate hyperelasticity of the skin

Small stature

A - Faulty pro-alpha 1 structure

B - Faulty pro-alpha 2 structure

C - Procollagen n-proteinase deficiency

VIII – Periodontal

AD

Generalized early-onset periodontitis

Moderate joint hypermobility

Variable skin hyperelasticity

Shin ecchymoses

Unknown
aAD Autsomal dominant
bAR Autosomal recessive
cXL Chromosome X linked
dApproximate % including all other types (V - XI, Hernandez, Friedman-Harrod, Beasley-Cohen, Viljoen)
Table 2 Clinical manifestations of Ehler-Danlos syndrome
Examination

Clinical Signs

Complications

Extraoral

Scarring of the forehead and chin

Hypertelorism and epicanthus

Narrow curved nose

Thin hair

Deformed ears

Frequent luxations and subluxations of the TMJ

Hyperelasticity of the skin

Intraoral (soft tissues)

Supple tongue

Gingival hyperplasia and fibrous nodules21

Buccal mucosa: Fragility

Reduced healing capacity

Bruising tendency

Periodontal tissues: Bleeding after brushing

Vulnerable to gingivitis and periodontal disease

Excessive post-extraction bleeding

Intraoral (hard tissues)

Vaulted palate

Deep fissures and long cusps

Microdontia Supernumeraries22

Pulp calcification

Abnormal roots

Teeth: Fragility

Tendency to fracture