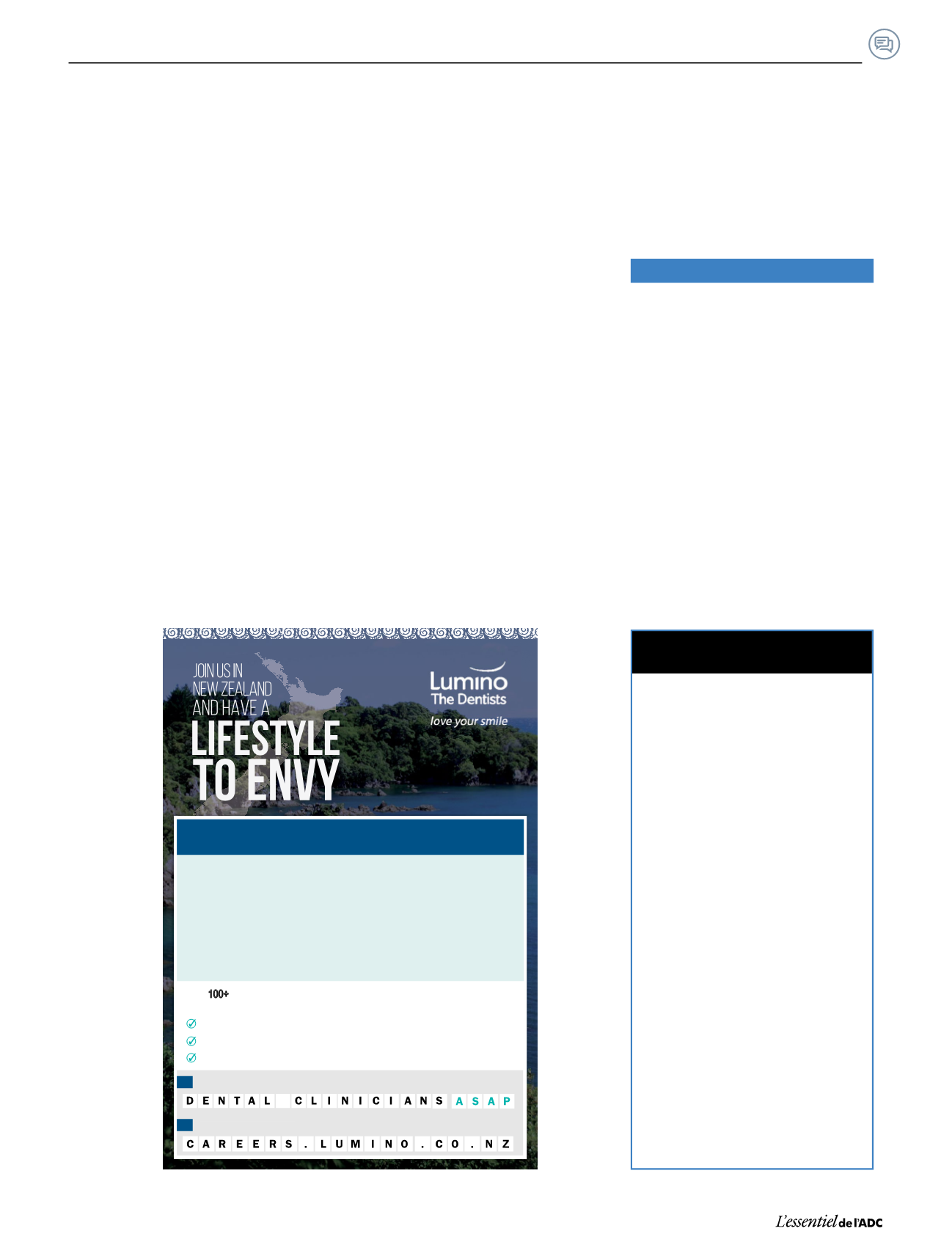 NEW ZEALANDPASSENGERARRIVALCARD
Tired of the hustle and bustle of big city life?Sick of having to travel hours to get
away from it all?Then trade in the poutine for a kiwi pie and be on your way to a
country known for a relaxed lifestyle. New Zealand – home to beaches, bushes,
ski slopes, award-winning wine, world-class restaurants and a range of cultures
right on your doorstep– literally.
New Zealand has that perfect combination of big city and country town all rolled
intoone.Withagreat community feel, excellent schoolinganda thrivingeconomy
–NewZealand really is aplace that you can call home.
With
practices nationwide there are opportunities everywhere to
enjoy the lifestyle youwant, plusenjoy:
Excellent salary, standardof livingandwork/lifebalance
Lucrativeearning potential in smaller towns
Career advancement and development within the LuminoGroup
1
2
is focused on patient-centred care and will
complement our team. Please forward resume
SASKATCHEWAN - Regina:
associate wanted. Regina is growing. Our
established dental centre is expanding to a
second state-of-the-art clinic in a high traffic,
developing location.Weare looking forsomeone
who enjoys autonomy in practice and canwork
at both clinics. New grads are welcome. Call
Karen at: (306) 775-0488 to arrange for an
interview, or email sunterradentalregina@
SASKATCHEWAN
-
Saskatoon:
Campus Dentist University of Saskatchewan in
Saskatoon is currently looking for an energetic,
friendly, outgoing, enthusiastic individual for a
very unique opportunity in amodern university
setting. If you are highlymotivatedwith strong
interpersonal skills and would like to join
Campus Dentist's dynamic team, please email
us:marzena@campusdentist.com.
UNITED
STATES:
Needed-Multiple States. Familia Dental has
great opportunities for General Dentists and
Orthodontists in Wisconsin, Illinois, Texas,
Indiana, New Mexico and Iowa. We show
our doctors how much we value their skills
by offering high compensation with earning
potential over $300,000 annually & $500,000
for Orthodontists. Other benefits include sign
on/relocation bonuses of up to $30,000, up to
three weeks paid vacation, Travel Allowance,
License Reimbursement, health insurance,
malpractice insurance, Continuing education,
andH1B and Permanent residency sponsorship.
For more information contact Vito Losuriello
847-915-3019 or send your resume to Doctor@
Vented'équipementetde service
INTRAORAL X-RAY SENSOR REPAIR:
We specialize in repairing Kodak/Carestream,
DexisPlatinum&GendexGXS700.Repair&save
thousands over replacement cost. We purchase
old/broken sensors. Refurbished sensors are
also available for purchase. FAST TURNAROUND.
3MESPE. . . . . . . . . . . . . . 6
A-dec. . . . . . . . . . . . . . . .11
Associationdentairede l'Ontario
AAP150. . . . . . . . . . . . .20
Bisco. . . . . . . . . . . . . . . . 12
Carestream. . . . . . . . . . . . .18
CDSPI . . . . . . . . . . . . . 15, 21
duPacifique. . . . . . . . . . . . . . . . . . . . .42
FairfaxDentalSolutions. . . . . .42
FondsduCDSPI. . . . . . . . . .41
Garrison. . . . . . . . . . . . . . 30
KurarayAmerica Inc.. . . . . . . 47
Medicom. . . . . . . . . . . . . .36
Philips. . . . . . . . . . . . . 25, 39
Procter&Gamble. . . . . . . 2, 35
SciCan. . . . . . . . . . . . . . . . 8
VOCO. . . . . . . . . . . . . . .48
Wiley-Blackwell. . . . . . . . . . 29