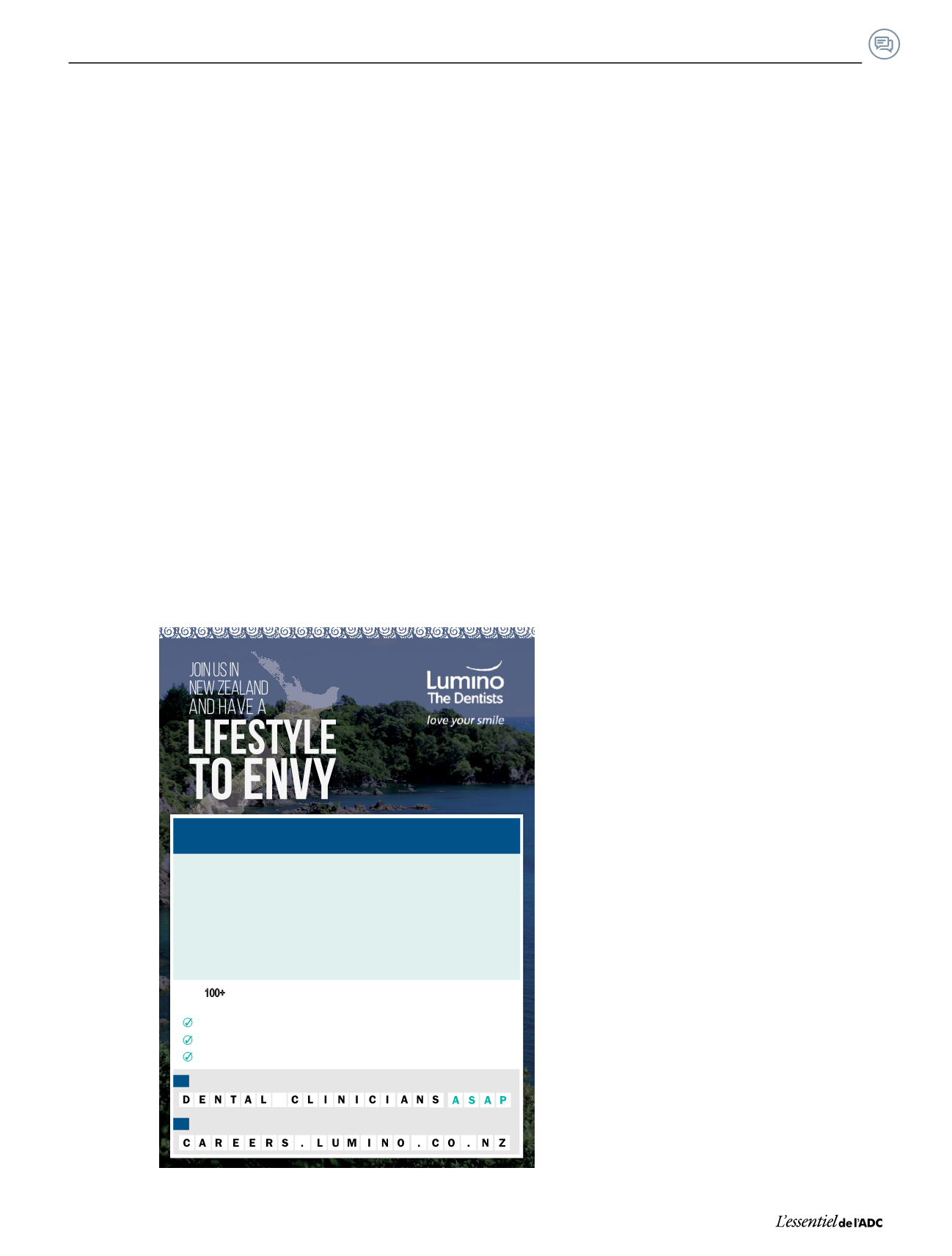 environment. If desired theopportunity to learn
the skills of practicemanagement to run a large
family practicewill be available and the chance
to buy in does exist for the right candidate.
ALBERTA - Calgary:
required. Accepting resumes for full-time, Wed
to Sat associate position, minimum 3-years
experience required. Our busy south Calgary
assignment clinic provides all aspects of general
and advanced cosmetic dentistry all supported
by a highly-skilled team. Forward cover letter
and resume including references to: airlies@
ALBERTA - Edmonton:
Group is seeking a compassionate, ambitious,
patient-friendly dental associate who is
proficient in many areas of general dentistry,
and has strong communication skills. A
preventative restorative philosophy is an asset.
Our clinics are modern (renovated or new),
digital (x-rays, CBCTs, PAN/Ceph, paperless
charting), and our highly-trained team is ready
to support the successful candidate inproviding
quality dentistry and achieve their production
goals. Established clinics, with steady patient
flow, new family and emergency patients, are a
hallmark of all our established dental practices.
Part-time and full-time positions available,
flexible hours. Please reply in confidence to:
ALBERTA - Grande Cache:
associate required for Grande Cache Dental
Care, located in the beautiful Rocky Mountains
ofAlberta. The successful applicantwill be fully-
booked from day one. Must be comfortable
with all aspects of general dentistry with
special emphasis on diagnostic, restorative,
communication and personal skills are essential.
Noweekends or evenings required. High gross/
net office - associate can expect above-average
remuneration. Experience preferred, new Grads
are welcome to apply. Please email resume:
ALBERTA - Okotoks:
immediately. We have a busy practice
established 20 years in Okotoks (15 minutes
south of Calgary). Our practice environment
is family focused on patient care and comfort.
State-of-the-art facility. Endo, implant, and
sedation are assets. Email CV to: Sherry:
ALBERTA - Redcliff:
required immediately to joinawell-established,
high-grossing family practice located in
Medicine Hat area. Excellent opportunity to
replace existing associate with a large existing
patient base and strong new patient flow. The
successful applicant will be fully booked from
day one. Please email: redcliffdentalom@gmail.
ALBERTA - Stony Plain:
in Stony Plain seeking associate to join our
team. We are located half an hour west of
Edmonton in a community-oriented town.
Successful candidate will enjoy "small town
by big city living", and working with children
and the elderly. We are offering 3 days per
week, increasing to full-time, with excellent
earning potential, friendly staff, and loyal
patients. Interest in aesthetics, implants,
and/or IV sedation would be a rapid practice-
builder. In-office childcare is available. Please
BRITISH COLUMBIA - Kimberley:
Seeking a full-time associate to join our modern,
family-oriented dental practice. Large established
patient base with excellent staff. Kimberley is
a great place to raise a family and to enjoy the
outdoors. The community offers a great lifestyle
with skiing, fishing, boating, hiking and camping
allwithinminutes of town. Please forward resume
BRITISHCOLUMBIA - East Kootenay
Valley:
Wanted: associatewho is interested in
livingandworking in themostbeautiful valley in
WesternCanada, theEastKootenayValley. Short
drive toMontana, IdahoandWashingtonStates.
Less than 4 hours to Calgary. Fabulous outdoor
activities of all descriptions; houseboats, skiing,
and on and on. Should have at least 2-3 years
NEW ZEALANDPASSENGERARRIVALCARD
Tired of the hustle and bustle of big city life?Sick of having to travel hours to get
away from it all?Then trade in the poutine for a kiwi pie and be on your way to a
country known for a relaxed lifestyle. New Zealand – home to beaches, bushes,
ski slopes, award-winning wine, world-class restaurants and a range of cultures
right on your doorstep– literally.
New Zealand has that perfect combination of big city and country town all rolled
intoone.Withagreat community feel, excellent schoolinganda thrivingeconomy
–NewZealand really is aplace that you can call home.
With
practices nationwide there are opportunities everywhere to
enjoy the lifestyle youwant, plusenjoy:
Excellent salary, standardof livingandwork/lifebalance
Lucrative earning potential in smaller towns
Career advancement anddevelopment within the LuminoGroup
1
2