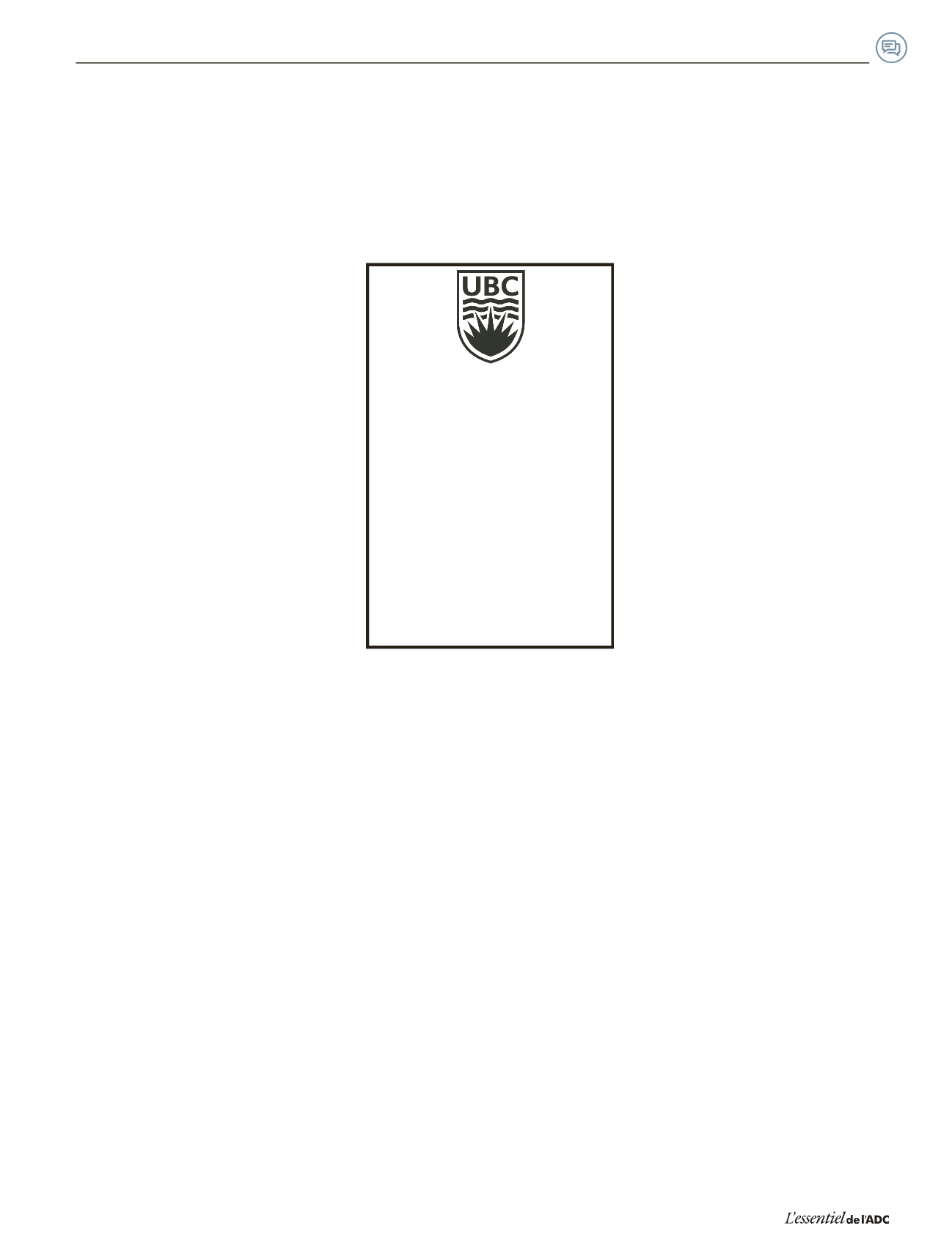 activities of all descriptions; houseboats, skiing,
and on and on. Should have at least 2-3 years
ofworking experience in all aspects of dentistry
and needs to be an easy-going individual with
a sense of humour and great outlook on life.
BRITISH COLUMBIA - Terrace:
time associate and/or part-time locum position
required for abusy familypractice. Largepatient
basewitha friendly, experienced staff. Excellent
opportunity for a new grad offering all aspects
of dentistry. On-site furnished rental apartment
available. Local activities includehiking, fishing,
18 hole golf course, skiing, arts theatre andNW
Community College. Excellent airport facilities.
mail to: 4438 LakelseAve., Terrace, BC, V8G1P1,
Attn:Marilynn. Telephone: (250) 638-8567.
BRITISH
COLUMBIA
–
West
Vancouver:
invites you to join our well-established
lucrative practice, we are seeking the right
candidate. The successful candidate will start
part-time and quickly lead into a full time
position. Seeking a dental associate who is
patient care driven, clinically excellent and
motivated. Enjoy a worldly atmosphere in the
best city in the world; our office is situated
near the scenic mountains, steps to the ocean
and close to downtown Vancouver for night
life. Our practice is amulti-faceted in dentistry
in a technologically advanced setting, with a
holistic approach to fluoride and safe amalgam
removal, candidate would need to have similar
philosophy, which can be trained. We prefer a
candidate with experience but would consider
an exceptional candidate with excellent
communication skills, warm personality and
sense of humor a plus. Possible prospect of
buying into the practice in the future. Please
email your resume and cover letter to dental.
NEWFOUNDLAND:
(locum). Maternity leave replacement from
July 2016 - February 2017. Full-time hours, no
weekends. Busy, well-established family dental
practice in Lewisporte, NL. A scenic centrally-
located community overlooking Notre Dame
Bay.Modern, fullydigital, paperless facilitywith
wonderful support staff. Candidates must be
patient-focused, approachable& have excellent
communication skills. Please forward resumes
of interest to: fax: (709) 535-2561, email: info@
lewisportedentalclinic.ca or mail to: Lewisporte
Dental Clinic, P.O. Box 790, Lewisporte, NL, A0G
NEWFOUNDLAND - Gros Morne
National Park:
Full-time associate required
for family practice in Norris Point, located in
beautiful Gros Morne. Experienced associate
preferred but will consider new grad. On
site furnished apartment available. Email:
ONTARIO - 26 Locations:
Associate required for our well-established,
busy practices. Enjoy a small town or a large
city atmosphere. For more information visit
ONTARIO - Belleville:
dentist required ASAP for a busy, established
practice. PT until September when positionwill
becomeFT tocoveramaternity leave.Preference
topractitioners skilled innitrous oxide sedation,
extractions and paediatrics. Reply to: nkpdds@
ONTARIO - Dunnville:
practice requires an experienced, caring
associate to provide exceptional care to long-
standing patients, 2-4 days per week. The
candidate will have excellent communication
skills and will provide all facets of dentistry
including endodontics. Enjoy a small town
atmosphere with our long-term team in a
well-established practice situated near the
scenic Grand River. Close proximity to Lake Erie.
Please email your resume to: bonnierobins@
dulmagedentalarts.ca or phone: (905) 774-
ONTARIO - Ottawa:
is wanted for a busy, centrally-located West
end practice. It is a well-established, state-
of-the-art group practice with a focus on
comprehensive patient care. We have a
commitment toproviding thebest carepossible
through extensive continuing education and
a group learning environment. The location
provides ample free parking, large well-
equipped operatories, and a vast patient
flow. The ideal candidate is an enthusiastic,
caring, committed individual with good
communication skills looking for anopportunity
to provide excellent dental care to a large
variety of patients from families to seniors
and professionals to students, with a goal to
continually enhance their skills and further the
excellent care given to these patients. Please
send resume to: carlingwooddental@rogers.
ONTARIO - West of Toronto:
TIME ASSOCIATE DENTIST for Brampton
office: Wednesdays, Thursdays & alternating
Saturdays. Fully booked from start. Modern
technologies and exposure to implants, Cerec
and the ability to refer to the many specialists
within the practice. Email resume: foxteeth14@
SOUTHWESTERN ONTARIO:
Position-Southwest Ontario. Awell established
group practice in London is seeking an oral and
maxillofacial surgeon for an associate position
leading to partnership. Our modern surgical
centers and hospital based practice allow for
the provision of a full scope of OMFS services.
We enjoy partnering with a very supportive
dental, medical, and specialist referral network
inour community.Weare seekingapersonable,
Faculty of Dentistry – UBC, seeks
candidates for a full-time tenure-track
faculty position in Oral Biology. This is a
basic science, research-focused position
and the rank will be commensurate with
research experience and productivity.
The successful candidate is expected to
contribute to teaching and supervision
of graduate/undergraduate students and
postdoctoral fellows. Candidates with PhD,
a completed postdoctoral training, a strong
record of research productivity and who
can establish an independent research
programwill be considered for thisposition.
Review of applications startsApril 1, 2016.
Send applications to: Dr. ND Ruse, Acting
Head – OBMS, Faculty of Dentistry, 2199
Wesbrook Mall, Vancouver, BC V6T 1Z3